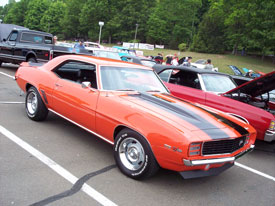 The 1969 Camaro marked the last of the first generations and is arguably the most popular. While it shared the same basic body style as its earlier siblings, it featured entirely new, more aggressive looking sheet metal and an entirely revised grille. The familiar coke bottle shape was flatted more to give the 1969 Camaro a lower and wider looking stance. The grille was much more angled and the parking lamps were moved to the lower front valance below the bumper. Other than the roof itself, the 1969 Camaro doesn't share very much sheet metal with earlier models.
Read more here.....
1969 Camaro Parts and Restoration Information
The folks at
GroundUpRestoration
really know their stuff, we've all been there, let them help.